Good Morning!
I'm excited to announce the new bible study starting soon.  We will be studying  The Explicit Gospel by Matt Chandler.  We will begin on Monday, January 26th.  I hope that you'll participate in this 7 week series.  The workbook is available in a paperback and an e-reader version.  The videos connected to the study are available for purchase as well but I will try to post as many videos from Youtube that relate to this study that I can find.  This study has been designed to appeal to both sexes and would be a great to do in a large or small group format.  Click on the picture below to be directed to Lifeway to purchase your copy today.
"This Bible study makes explicit the multifaceted truths of the gospel. Matt Chandler clearly defines the saving power of the gospel and then articulates what the gospel does for believers after salvation.  He challenges you to embrace and rely on the gospel to grow in Christlikeness, to persevere in your faith, to serve others in the power of Christ, and to celebrate your eternal redemption." Lifeway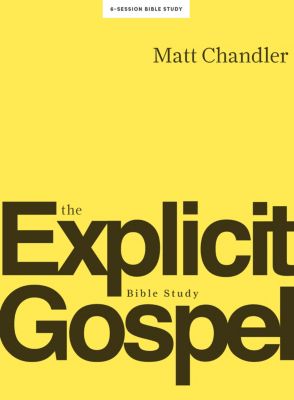 I can't think of a better resolution to make than learning more about the God we serve by studying His word.  I hope that you'll join in.
With every page of His word we turn, with every kind word or deed we say or do, with every truth that we embed deep into our being and walk out, may God, our Father be glorified.  Your participation, encouragement, and support of this ministry over the past year has made me work harder, serve better, and strive more to glorify God in all that I do.  Thank you for sharing your time here.
Blessings,
Mimi
*I do not receive any compensation for any purchases made through Lifeway.