Good Morning!
Today, I'm so excited to announce the following: What Love Is by Kelly Minter is the next bible study we will do together! The study will begin on Monday, January 25, 2016. The study's focal passages are 1 John, 2 John, and 3 John.  The Apostle John speaks more about love than any other disciple in the New Testament. He issues the call to all believers to love like Jesus loved. Through the study of these letters of John, we will learn truths that will help us navigate our lives in the culture that we are living. We will also gain the gift of assurance that we can know that we know Jesus. As with all of Kelly Minter's Living Room Series studies, recipes are included within the study guide. I can't wait to try some of them!
On Monday, January 25, 2016, I will post an introduction to the study and during that week, you will have the opportunity to work the first week's lessons. Then, Monday, February 1, 2016, I will post a recap of what we've learned during the first week of What Love Is and continue in like manner for the following six weeks with the study concluding on Monday, March 7, 2016.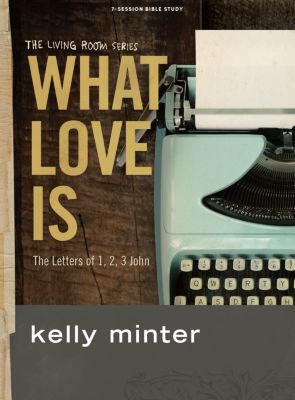 This study and the accompanying videos are available for purchase from Lifeway as well as other outlets. Click on the image above and you will be taken to the ordering page at Lifeway.
I hope you will plan to join me as we study 1 John, 2 John, and 3 John through Kelly Minter's study, What Love Is.
Blessings,
Mimi
*I am not affiliated with Lifeway and do not receive any compensation from them.