Good Morning!
Are you ready to dig into Bible study this month? I am! We will be using Entrusted: A Study of 2 Timothy by Beth Moore for our material. I've allotted a couple of weeks for you to find and purchase a book if you will be participating. The start date will be Monday, January 23, 2017. I hope you'll join in!
For Ordering Information: Click on the picture below.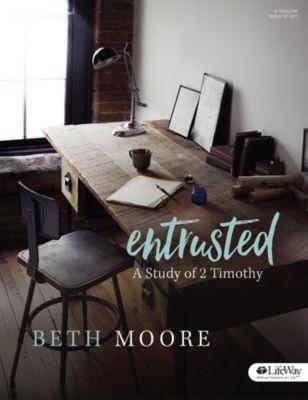 I'm not affiliated with Lifeway. Their site is just the one I picked to use for ordering. The workbook is available in other locations. Because of copyright laws, I'm unable to offer the full videos that accompany this study. However, I will post any Youtube ones that I find. The videos are available for purchase in a DVD and an audio format through Lifeway. You can use the same link above to locate those resources. If enough interest is expressed, I will offer a Facebook group for those of us working through the study to share and interact. Just let me know in the comments or on the Facebook page if you're interested.
I'm looking forward to journeying through this study with you. I hope you'll join me!
Blessings,
Mimi