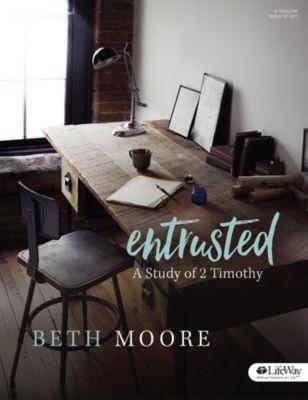 Good Morning!
The study, Entrusted : A Study of 2 Timothy by Beth Moore, begins today. If you'd like to join in and need ordering information for the workbook or the accompanying dvds, click on the book cover up above and you will be redirected to ordering information. I also have a Facebook group to go with this study so the participants can interact and journey together through the study. If you'd like to be a part of this group, please email me or leave a comment and email address telling me that you'd like to be a part of this group.
As Beth Moore has done in her last two Bible studies, she continues the tradition of offering several levels of participation. I've had to adapt these levels to fit our online format and copyright restrictions. Level 1 for online is to participate by only reading the recap post for each week. These posts are usually made on Monday. Level 2 is reading the recap post for each week and doing the weekly homework assignments. Level 3 is reading the recap post, doing the homework assignments, and handwriting 2 Timothy in the back of your workbook as guided by Beth Moore during the lessons. Level 4 is reading the recap post, doing the weekly homework, handwriting 2 Timothy, and reading the 'Next Level with Melissa' contained within the weekly lesson plan. Level 5 is all of the previous items plus memorizing 2 Timothy. I'll also add Level 6 which would include purchasing and watching the dvds that go along with the study in addition to doing all the other items mentioned.
Don't feel overwhelmed by all of those levels or suggestions. Each of us has different time constraints from week to week and in my case, sometimes hourly! The bottom line is to do something that engages you in the Word of God. A little is better than none at all. Do what works for you. God will bless whatever amount of time you're able to set aside to focus on Him.
"the words that I speak unto you, they are spirit, and they are life." John 6:63b KJV
This week, our lesson plan is Week 1 "Divine Triangulation." The lessons begin on page 15. Below is a sampling of the introductory video to the study. If you'd like to purchase and watch the full session, click on the book cover at the top of the post to be redirected to the ordering page.
We are in for a wonderful journey through the epistle of 2 Timothy!
Blessings,
Mimi