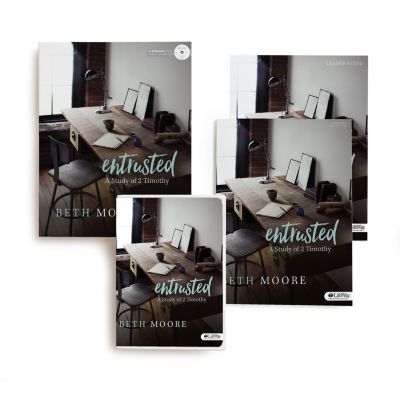 Good Morning!
How was your first week in the study, Entrusted: A Study of 2 Timothy by Beth Moore? If you're a first time visitor to the site or haven't ordered a workbook yet, I'd love for you to join us as we work through this series. I have a Facebook group set up for a more private discussion. If you'd like to be a part of that group, please leave a comment or send me a message. I will need your email in order to include you in that group. If you'd like to order a workbook or would like to know a little more about this study, the information can be found by clicking here.
"Paul, an apostle of Christ Jesus by the will of God, according to the promise of life that is in Christ Jesus,

To Timothy, my dear son:

Grace, mercy and peace from God the Father and Christ Jesus our Lord." 2 Timothy 1:1,2
In this first week, we began to construct what Beth Moore has termed a 'Divine Triangulation' between three different cities, three different lives, and one circle of time. We first became acquainted with a man named Saul, who later became known as Paul, in Day 1. We learned of his religious leanings, how he studied with the great Rabbi Gamaliel, and that he was brought up among the conservative Pharisees like his father [Acts 23:6,26:5]. Reading through the cross reference scriptures, we outlined Saul/Paul's life. We discovered that he was of the tribe of Benjamin [Philippians 3:4,5], from Tarsus in Cilicia, and spoke Aramaic [Acts 21:39;22:2,3]. Although Saul was born in Tarsus and therefore a Roman citizen, we learned that he was raised in Jerusalem [Acts 21:17; 22:27]. He, additionally, spoke Greek and Hebrew. The first day's assignments were brought to a close as we considered the bits and pieces of our own stories and how God could be fine-tuning our lives.
In Day 2, we discovered more about Saul's life. He didn't spend all of his time in religious studies but earned his living by tentmaking [Acts 18:3]. We also learned of a strong influence in his life; his mentor and teacher, the great Rabbi Gamaliel. Gamaliel was a Pharisee and served on the Great Council called the Sanhedrin. He was a man honored by all and able to appeal to both parties of this council. We read and answered questions pertaining to an event found in Acts 5:12-42 which involved the apostles and the Sanhedrin. When questioned why they continued to teach about Jesus, Peter and the other apostles replied that they must obey God and not men [Acts 5:28,29]. The Sanhedrin were furious with their answer and had every intention of having the apostles killed until Gamaliel spoke up. Gamaliel advised his colleagues concerning the apostles;
"Leave these men alone! Let them go! For if their purpose or activity is of human origin, it will fail. But if it is from God, you will not be able to stop these men; you will only find yourselves fighting against God." Acts 5:38,39
This day's lesson came to a close with Beth Moore highlighting that Jesus and Saul were contemporaries but from different geographical origins. In our third lesson for the week, we continued considering this thread of connection. Beth Moore suggests that Saul was possibly in Jerusalem during the crucifixion of Jesus. Through our cross references, we traced Saul's footsteps to determine his location around the time of the crucifixion. This possibility, however, is not without issues. The strongest of which is why Saul/Paul never referenced being there in any of his letters. We did read two other passages which place Saul as part of the opposition to Jesus. In the first, we read that he observed Stephen being stoned for his faith while he kept the cloaks of those stoning him. This event changed something within Saul. His demeanor according to the biblical record began to change. Saul began to arrest followers and seek to destroy the Church. He even asked for permission to hunt followers in Damascus in order to arrest them and return them to face consequences in Jerusalem [Acts 9:1,2]. His teacher Rabbi Gamaliel must've wondered what fueled his student's zeal to hunt down these followers of Jesus. The Lord Jesus, however, intervened and Saul had an encounter he would never have imagined.
"As he neared Damascus on his journey, suddenly a light from heaven flashed around him. He fell to the ground and heard a voice say to him, "Saul, Saul, why do you persecute me?" "Who are you, Lord?" Saul asked. "I am Jesus, whom you are persecuting," he replied. "Now get up and go into the city, and you will be told what you must do."" Acts 9:3-6
On Day 4, we jumped forward into Paul's future as we considered the third city in our 'Divine Triangulation.' We were introduced also to our third person, Timothy. A young man raised by a Jewish grandmother and mother, who were both believers, and his Greek father [Acts 16:1; 2 Timothy 1:5]. Paul had previously been to Lystra during his first missionary journey. Before he returned a second time to Lystra, Paul split from his companion Barnabas over a disagreement concerning Mark [Acts 15:37-39; Colossians 4:10]. Paul, therefore, took on a new companion, Silas, for his second missionary journey. These men soon added their new friend, Timothy, to accompany them on their journey. 
We explored the budding relationship between Timothy and Paul on Day 5. Before departing on their journey, Paul had Timothy circumcised. He knew that Timothy's lack of circumcision would be a stumbling block with the Jews they would encounter since his father was Greek. During this lesson, we spent time investigating other instances of circumcision among the early Christians. We compared and contrasted their stories in relationship to Timothy's story. We concluded our week's lessons by considering the key people in our lives that have been crucial and have been used by God to help us live into and fulfill our divine calling.
Beth Moore wove her introductory video lesson around Acts 14. She encouraged us to remember that we were meant to be mighty and to live a life with meaning. She exhorted us to remember that we're all called to be Christian communicators by sharing our faith. She challenged us to pray for God to 'ramp up our effectiveness' and to gain fresh traction on our journey. Additionally, Beth Moore reminded us that we can't fulfill our individual callings without others. She highlighted that we need each other in order to be effective for God's great glory and that we can't go to the next level without faith. Faith keeps us answering the call. 
If you'd like to view the introductory video to this session, the video is available for purchase by clicking here.
A great start this week! Begin the Week 2 lessons. 
Blessings,
Mimi