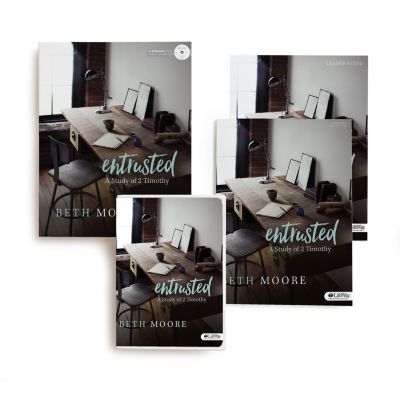 Good Morning!
In Week One of our study, Entrusted: A Study of 2 Timothy by Beth Moore, we were introduced to three men, three locations, and one single circle of time. This week, we began our journey into Paul's second letter to Timothy. Scholars consider this letter, written around 67 AD during the rule of Emperor Nero, to be Paul's last correspondence before his death. Paul expresses not only his affection for Timothy in this brief letter but he exhorts him to guard, live, and impart the gospel. If you'd like to start with this study from the beginning, all of the previous posts for this series can be found under the Bible Studies Archive page. Click here and scroll down until you find the Entrusted study. 
"I thank God, whom I serve, as my forefathers did, with a clear conscience, as night and day I constantly remember you in my prayers. Recalling your tears, I long to see you, so that I may be filled with joy." 2 Timothy 1:3.4
Our first day of this week's lessons focused on Paul and his emotional state as expressed in his words to Timothy. Through questions, readings, and cross references, we explored what Paul meant by his statement that his conscience was clear. We also considered a clear conscience versus a guilty conscience. Beth Moore writes; "If we could reach the conclusion of this study utterly convinced we have a divine calling and equally convinced we did nothing to earn it, not one moment of this journey will be wasted." We reflected on these words and the confident humility of Paul. We also explored the ramifications of a guilty conscience in a positive and negative light.
"To Him who loves us and has set us free from our sins by His blood, and made us a kingdom, priests to His God and Father, the glory and dominion are His forever and ever. Amen." Revelation 1:5,6
Our second lesson for the week focused on Paul's relationship with Timothy. Beth Moore calls his affection for Timothy as 'vulnerable love'. The type of love that holds nothing back. In his letter, Paul recounts all he remembers about Timothy from the last time he laid eyes on him and how he longs to see him again. Our lesson led us to contemplate our own spiritual lineage and how we should take ownership over what we have received and what we have passed or will pass down. We were encouraged to use our unique spiritual traits and tastes along with how we relate to Jesus and others as a tool to steward the next generation of faithful followers.
"He has saved us and called us with a holy calling, not according to our works, but according to His own purpose and grace, which was given to us in Christ Jesus before time began." 2 Timothy 1:9
As Timothy was called by Paul to be unashamed of the gospel, we, too, were exhorted to stand firm in faith in our third lesson. We also considered shame, suffering, and our own responses towards the behavior and display of faith by other Christians. We reflected on being saved and called by God's own purpose and grace. Beth Moore also shared the Greek definitions for the English words, purpose and grace, found in 2 Timothy 1:9.
On Day 4, we explored the word, entrusted. We considered with what we have been entrusted: the gospel and the gifting. We focused on two parallels between Paul's experience and our own through cross references. We also considered what Paul meant when he told Timothy to "hold on to the pattern of sound teaching" found in 2 Timothy 1:13. Beth Moore reminded us that our goal is Christlikeness and not us-likeness. We must hold tight to God's Word and sound doctrine in order for our local churches to be healthy as well as the Church at large.
"May the Lord show mercy to the household of Onesiphorus, because he often refreshed me and was not ashamed of my chains." 2 Timothy 1:16
Our lessons for the week concluded on Day 5 by contemplating Paul's intense loneliness in prison. We also read how he felt deserted by those he trusted. We reflected on our own experiences of abandonment by friends. Lastly, we read how Onesiphorus came and refreshed Paul. Beth Moore writes;
"Refreshers are rare finds in this narcissistic world. They are servants of God to the scorched and thirsty, and worthy of our recognition."
Will we be like Onesiphorus seeking and searching for those who need to be refreshed as God has searched, found and refreshed us?
The Session Three Video focused on the dissection of 2 Timothy 1:6,7. Beth Moore also discussed some of the methods she uses to fan the flame of her spiritual fervor. If you'd like to view this video, the video or audio edition is available for purchase at Lifeway.
We are nearing the midway point in this study. Keep at it for the Kingdom and His glory!
Begin Week 3 Lessons.
Blessings,
Mimi