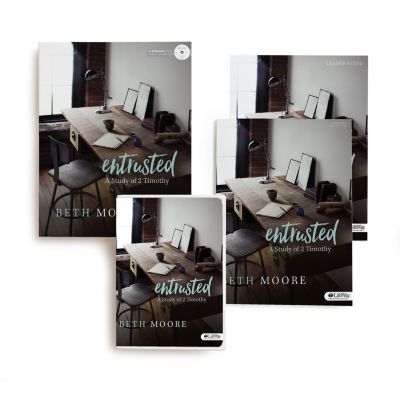 Good Morning!
We are halfway through Entrusted: A Study of 2 Timothy by Beth Moore. How do you like this study so far? If you'd like to start from the beginning or catch back up, all of the posts pertaining to this study or any of the past studies done on the site can be found under the Bible Studies Archive page, here.
"You then, my son, be strong in the grace that is in Christ Jesus." 2 Timothy 2:1 
Our lesson on Day One began with a study on grace. We learned that we are to live as thriving overcomers not merely survivors. Like Timothy, we were also encouraged to keep being empowered by God through the grace found in Jesus. We looked at three metaphors that Paul gives to describe the life of a servant of Jesus: the soldier, the athlete, and the farmer. These metaphors indicate that effort will be required of each of us to fulfill our calling. If we are going to invest ourselves into our calling, our competence will come from God through the Holy Spirit as well as our hard work. We concluded our lesson with a light Greek word study on the word, entangled.
"Not that I have already obtained all this, or have already been made perfect, but I press on to take hold of that for which Christ Jesus took hold of me. Brothers, I do not consider myself yet to have taken hold of it. But one thing I do: Forgetting what is behind and straining toward what is ahead, I press on toward the goal to win the prize for which God has called me heavenward in Christ Jesus." Philippians 3:12-14 
We spent our second day's lesson on a verse by verse study of Paul's words found in Philippians 3:12-14. We considered that our calling is in front of us and not behind us. We were also reminded by Beth Moore that our faithfulness is the key to somebody else's faith. We finished the lesson by reflecting on 2 Timothy 2:10-13.
"Do your best to present yourself to God as one approved, a workman who does not need to be ashamed and who correctly handles the word of truth." 2 Timothy 2:15
On Day Three, we explored the human need of man's approval versus God's approval. Beth Moore exhorted us to become effective communicators of the gospel. She also shared with us five key ways to ensure that we handle scripture accurately. These points were to stay tender to the conviction of the Holy Spirit, to consult well-recommended resources, to stay teachable under the counsel and correction of wise people with open access to us, to sit under multiple teachers, and to not quickly dismiss the questions and complaints of our critics. By diligently studying the scripture, we can guard ourselves against lopsided understanding and false truths.
"Nevertheless, God's solid foundation stands firm, sealed with this inscription: "The Lord knows those who are his," and, "Everyone who confesses the name of the Lord must turn away from wickedness."" 2 Timothy 2:19 
We labeled a house in our fourth lesson to better understand how to build a solid foundation on truth. We were reminded that to follow Jesus closely is to completely fulfill our calling. We also considered salvation and the issue of struggling with doubt concerning habitual cycles of sin. Beth Moore instructed us on ways a person can judge their position in Christ concerning their battle with a stronghold of sin.
"So if anyone purifies himself from anything dishonorable, he will be a special instrument, set apart, useful to the Master, prepared for every good work. Flee from youthful passions, and pursue righteousness, faith, love, and peace, along with those who call on the Lord from a pure heart. But reject foolish and ignorant disputes, knowing that they breed quarrels." 2 Timothy 2:21-23 
Our lessons for the week concluded with examining our influence on others. Do we engage in arguments or teach gently while instructing others towards truth? Do we build up or tear down? Have we become parrots instead of pupils by imitating the thoughts and attitudes of those we admire rather than those of Jesus? Beth Moore reminded us that we are actively teaching others, whether intentional or not, about Jesus in all that we do. Lastly, we considered 2 Timothy 2:26 and the translations of several Greek words from that verse in relation to Satan's traps.
During the Group Session Four Video, Beth Moore shared some of her testimony as an example to her teaching on dealing with the traps of Satan and entanglements. She gave five points that she has learned over her years of ministry. Her closing remark was highlighting that Jesus is the best part. She exhorted us to deal with anything that entangles us because he is the prize.
If you'd like to view this video, the video or audio edition is available for purchase at Lifeway.
Begin Week 4 this week. Good job!
Blessings,
Mimi
*Bible references: The New International Version Study Bible 1985  Zondervan Publishing; Holman Christian Standard Bible