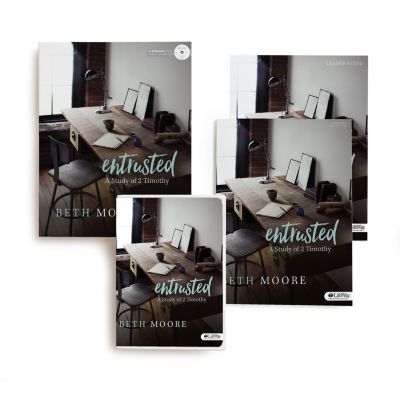 Good Morning!
'Difficult Times, Difficult People' was the title of the Week Four lesson plan. I found the title to be an accurate description of all that we studied and cross referenced. How about you? We have only one week remaining in this study. Following the final post for Entrusted: A Study of 2 Timothy by Beth Moore, the season of Lent will begin on Ash Wednesday, March 1, 2017. If you've fallen behind in the posts for this series or would like to begin from the beginning, all of the past posts for this study as well as other studies completed, can be found under the Bible Studies Archive.
"But know this: Difficult times will come in the last days." 2 Timothy 3:1
Our lessons began on Day One by laying down a point of agreement about the era called 'the last days.' We used biblical cross references to establish that the last days began at Pentecost as announced by Peter and prophesied by the prophet Joel [Acts 2:16,17; Joel 2]. We also learned that this era will continue 'until the day of Christ Jesus' as termed by Paul [Phil. 1:6]. We commonly refer to this day as the second coming of Christ which we eagerly await as His believers. When that day arrives, the order of this world will pass away and a new one will usher in [Revelation 21:1-6]. We also read from 2 Peter 3:3-13 how we are to live as we wait for this new beginning.
"…what kind of people ought you to be? You ought to live holy and godly lives as you look forward to the day of God and speed its coming. That day will bring about the destruction of the heavens by fire, and the elements will melt in the heat. But in keeping with his promise we are looking forward to a new heaven and a new earth, the home of righteousness." 2 Peter 3:11-13
As Beth Moore states; "We are His wonders with the greatest potential impact on the lost, the cynical, and the hopeless." We are called to this time of the Church Age, waiting until His glorious return, to share the gospel and the gifting of what has been entrusted to us. In the meantime,we are to –
"Occupy till I come." Luke 19:13 KJV
We are to take the gifts given and use them for His glory and to share His message. On Day Two, we examined all of the characteristics displayed in the lives of people during the last days found in 2 Timothy 3: 2-5. We also compared and contrasted them against what we learned from Matthew 24:1-14. We learned from the Matthew passage that these signs and behaviors are the beginnings of birth pains [Matthew 24:8]. We then considered if these characteristics were unprecedented. Beth Moore highlighted three ways to view whether the label, unprecedented, is warranted: Prevalence, Occurrence burgeoning into prominence, and Invasiveness. The second portion of this day's lesson focused on Greek terms and language lesson of these words listed in 2 Timothy 3:2-5. Three particular phrases were highlighted as being characteristic of people in the last days. They will be "lovers of themselves" [3:2], "lovers of pleasure rather than lovers of God" [3:4], and "without love" [3:3]. Whether these days are indeed the last of the last days, only God knows. Our responsibility is how we choose to spend the ones gifted to us. Will we carry forth what has been entrusted?
"Yet you do not know what tomorrow will bring. What is your life? For you are a mist that appears for a little time and then vanishes." James 4:14 ESV
The third lesson for the week centered on what type of people we will choose to be. Will we be strong willed about God's will or will we be ruled by our natural passions? We specifically focused on women in this particular lesson since the scripture is directed toward women. We were challenged to guard our hearts, bodies, homes, and to guard our callings.
"But you …" 2 Timothy 3:10
Following the list of characteristics displayed by those ruled by their natural passions, Paul interjects and writes that Timothy is to be different. On Day Four, we considered the power these two words have when connected. The power to challenge our list of limitations and obstacles. We have what it takes to be faithful. As believers in Christ, we have his Holy Spirit and God's word. We are able because of Him. We have our own unique blend of gifts, skills, and experiences that enable us to serve God to that which He has called us. Beth Moore reminded us that we're called to walk with equal tenacity as Paul and Timothy as we fulfill our own callings. This lesson concluded with the construction of our own timeline.
"All Scripture is God-breathed and is useful for teaching rebuking, correcting and training in righteousness, so that the man of God may be thoroughly equipped for every good work." 2 Timothy 3:16,17
Beth Moore states that "How we accept the Word of God profoundly affects how we receive the work of God." In our last lesson for the week, we considered three cross references that correspond to the one above found in 2 Timothy 3:16,17. We also added to our timeline chart from Day Four the names of those persons that have equipped us or acquainted us with the word of God as well as those who have influenced us spiritually and aided the formation of our spiritual life.
During the Group Session Five Video, Beth Moore spoke on the life of a servant of God. She used two passages of scripture to highlight her points: Romans 16 and 1 Corinthians 3:21-4:2. She used rowing as the visual to showcase the need for connectedness to be effective in ministry. She stated we have more strength together. As a mighty servant of God, the church is our family and we need to have the backs of our brothers and sisters in Christ.
Only one week left in the study! You can do it!
"Do your best to present yourself to God as one approved, a workman who does not need to be ashamed and who correctly handles the word of truth." 2 Timothy 2:15
Blessings,
Mimi